Citadele Bank (Latvia)
Citadele Index Discussion: Imbalanced Construction Project Planning Promotes Bad Preparation and Expensive Construction
Published on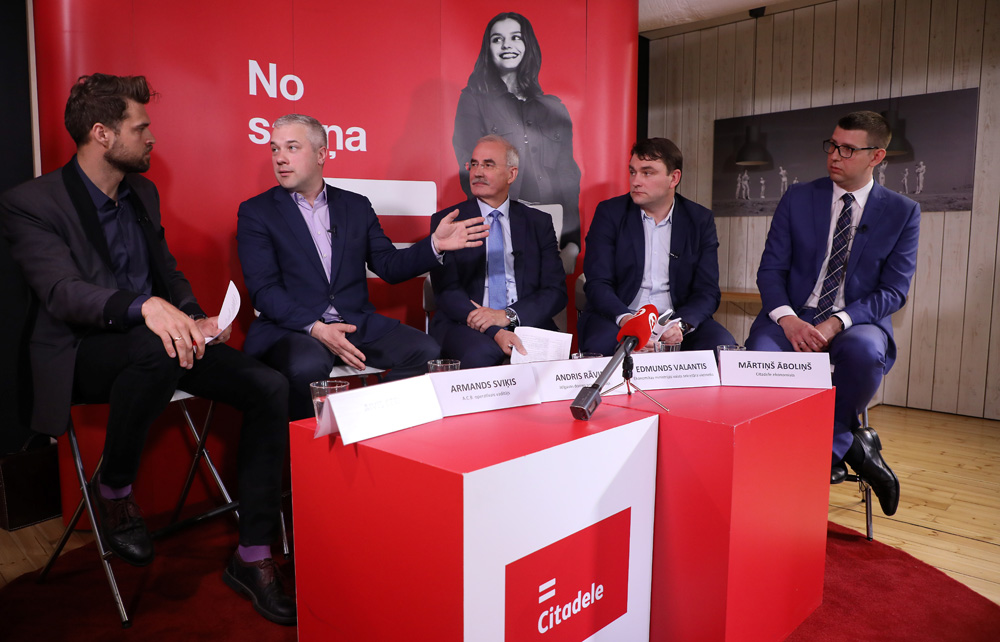 The imbalanced development of construction, with swift rises and falls and dependence on EU funding promotes bad quality and disproportionately expensive construction, concluded experts at the Citadele Index discussion, emphasizing that the country needs well-considered, long-term industry planning to balance growth and avoid rising costs.
Builders' mood most fickle
The latest Citadele Bank and SKDS survey of the mood of business owners, Citadele Index, shows that the largest fluctuations have long been observed to be among business owners in the construction industry - for years now, periods of complete pessimism mingle with flares of optimism. Currently, construction is the most positive industry, and its optimism has reached levels rarely seen in the post-financial crisis era: 54.22 points.
At the same time, builders admit more often than representatives of other industries that the business lacks employees; this was stated by 62% of construction businesses. Furthermore, builders admitted more often than business owners from other industries that they have experienced corruption in government and local council institutions, according to 22% of construction business owners surveyed. Meanwhile, regarding the shadow economy, construction business owners most frequently stated that it had decreased in their industry, with 57% of construction business owners agreeing.
By not investing in maintenance, we have worn out our road infrastructure and homes
During the discussion, experts admitted that, unfortunately, the optimism and fast growth in the construction industry does not mean that we'll be driving on good roads and bridges or living in high-quality homes. Actually, it's almost the opposite: we are fast approaching the moment when previously-built road infrastructure and homes will have reached a critical point of disrepair, because in the years leading up to now, there has been no targeted investment in maintenance and new building.
Deputy State Secretary of the Ministry of Economics of the Republic of Latvia Edmunds Valantis: "During the life cycle of a structure, construction costs make up a third, and the remainder of the expenses are operating expenses. Currently, we have not fully grasped the challenges of maintenance, such as how much and how often to invest in keeping roads and homes at an acceptable quality, rather than only renovating when major repairs are needed. Unfortunately, this costs a lot more."
Chairman of the Jelgava City Council Andris Rāviņš emphasized during the discussion that the maintenance of any infrastructural object is also a question of construction quality. "There is insufficient capacity for the number of works taken on by builders. Construction work is done at a low quality, and building completion is delayed. Jelgava's problem is the need for an additional bridge, because the existing bridges over the Lielupe and Driksa rivers are subject to an enormous traffic capacity which will continue to increase, and in case of an emergency one part of the city will be isolated from the other. Regulated infrastructure is also a question of our safety."
Dependence on EU money
Citadele Bank economist Mārtiņš Āboliņš emphasized that construction in Latvia fluctuates much more than the economy in general. Furthermore, Latvia is currently at the maximum point in the EU funding cycle: "Construction business owners' periods of pessimism and optimism correlate closely with the availability of money from EU funds. Latvia's choice of where to direct funding for infrastructure is affected by the regulations of use for EU funds. That's why, although in general a great amount is spent on construction in Latvia, it is often invested in projects which can attract EU funding, rather than primarily where it is needed the most."
Costs are also driven up by the government's inability to create guidelines fast enough on where and how to invest money from EU funds, admits Chairman of the Jelgava City Council Andris Rāviņš: "By the time we we have confirmed with government institutions, the deadline for using the funding has already gone. Construction firms understand that we have no wiggle room, and the prices quoted are high."
Growth must be controlled
The representative of the Ministry of Economics mentioned that, in EU countries, growth in the construction industry is, on average, within 2-3%, and governments control this: "In the past 15 years in Latvia, there has only been one time when growth was within the 3% limit. In other years, there were fast rises and falls. As a result, we overpay for construction work, and the biggest problem is that quality suffers, because, in the periods when there is no work, builders move away and consequent construction is performed by non-specialists. The government has to think much more seriously on how to plan structural funds so that we are not in the situation of using up funding meant for seven years in just three or four. I hope that, going forward, we will find opportunities to plan the years more evenly."
The experts taking part in the discussion admit that the construction industry is already close to maximum capacity, when there will be no more resources - money or staff capacity - for building more. Furthermore, the fast increase in capacity in the industry does not mean that we are building and renovating more, only that we are spending more.
Armands Sviķis, COO of the road and bridge construction company A.C.B.: "The capacity of the road construction industry is around 400-500 million Euro per year, which is swiftly approaching. If the Rail Baltica project will be around 2 billion Euro, then it is not difficult to conclude that, in the next four years, nothing else will be built, because the rest of the market will be burnt out and builders will lack capacity. Currently, in several positions, growth in expenses has been higher than 20%, which creates problems and overheating. For example, workforce availability is very low, while prices are increasing quickly."
Long-term plan and money marked for construction needed
Answering a question on renewing the previously abolished Road Fund, both builders and representatives of the government and local councils were of one opinion: balanced development requires clarity on the amount of funding available to the industry over a period of several years. This is particularly true in infrastructure construction, where the government and municipalities are the main clients. Drawing parallels with the state budget for defence, which has been defined clearly as 2% of GDP, a similar method could also be applied to construction, according to the experts.
The experts concluded that government investment in construction currently fluctuates more than the industry itself in general. Thus the government is currently not stabilising, but rather increasing, these fluctuations. For this to change, long-term planning is important.
"One solution is the so-called next project list, which, having monitored and controlled the development of the industry, the government and municipalities would release to the construction market during the so-called calm period. Thus the government and municipalities as large clients would help to maintain level long-term development and protect the market from overheating during periods of growth," explained Citadele Bank Economist Āboliņš. He emphasizes that this is also important so that the construction industry becomes predictable and is able to invest in development.
Too-large fluctuations delay investment in the development of the construction industry
"Significant long-term investment is important to the road-building industry: high-quality, expensive equipment, gravel pits, asphalt concrete factories. If orders in construction are chaotic and unpredictable, then investment risks are large, because the business doesn't know whether — in a year, two years, five years — there will be work and projects to cover the cost of the investment. This size of investment does not pay itself back within a year. The bank asks us what we'll be doing in a year, and we have to be honest and say that, unfortunately, we don't know what we'll be doing in 3-4 months. Therefore, to build with the latest technology and decrease expenses, we need a long-term vision for the construction industry for at least a 10-year period," emphasizes the A.C.B. COO.
The Chairman of the Jelgava City Council remarked that municipalities are only able to use State Treasury financing, which has various limits, although they would be happy to use bank loans at a higher interest rate to ensure that projects are not delayed, because, regardless, it is cheaper than maintaining the object at a standstill before later restarting construction.
Edmunds Valantis added that the Ministry of Economics is working on "making the construction industry transparent and easy to understand - so that the banks are clear on what is being financed, and so that competition is based on productivity rather than the fact that a business doesn't pay taxes or wages."